Project Status
Outdated (some functionality might be old)

Program watches for file changes in particular directory (Watch directory) and then copies changed files to another folder (Mirror directory) saving directory structure. This can be very useful when you have local copy of remote site and want to upload only files, changed locally after last upload.
Since v1.1 MiTo Team DCW can be minimized to system tray with right-click access. This makes program much comfortable to use.
Since v1.2 program supports internationalization. Now English and Russian translations are added.
Wildcards in exclusions are supported since v1.3. Please find an additional details in User's Guide.
We use this program while updating static sites. After creating "mirror" of changes in local copy of site ("Create mirror and recapture") we just need to upload this "mirror"-folder to hosting FTP server. So we are uploading to server only files, that were actually changed after last uploading. This program helps to save time and traffic.
Please feel free to report bugs or make a suggestions.
Screenshots
Main screen with Project Settings tab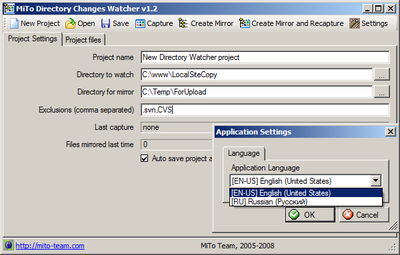 "Project files" tab with list of changed files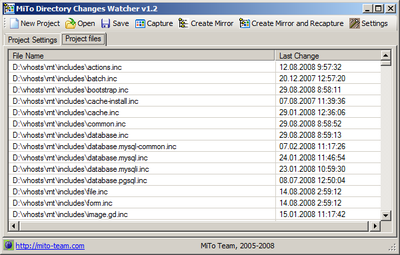 Links
You need to install Microsoft .NET Framework 2.0 for this program if you use Windows XP. You can download it here: link