Project Status
Closed (no more development and support)

Small program for PocketPC that allows you to draw pictures like on paper. Program is VERY simple. It allows you to draw with different pen colors and line widths. After that you can save your picture to file. Just run and enjoy it!
It was written in an couple of hours just to test .NET Compact Framework v2.0 capabilities. But the result is so funny that we decided to provide it for public usage.

There are MiTo Team Paint artwork gallery!
Take a look
Version 1.4 release introduced support for additional image formats. Now program supports BMP, JPG, PNG and GIF files. So you can load your favorite photo and add some beauty to it :)
To install program just copy MiToTeamPaintSetup.cab file to your PocketPC and run it.
There are 1-2 new versions in a year released now. We are open for your ideas. Please feel free to report bugs or make a suggestions.
On Windows Mobile 2003 program requires .NET Compact Framework 2.0 or newer installed. You can download it here: link
Windows Mobile 5.0 (2005) or higher has .NET Compact Framework, so you can just install program without any prerequisites.
Screenshots
Small program demo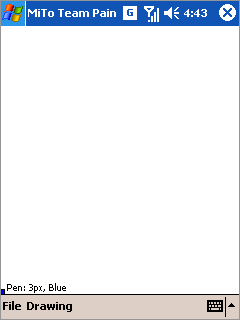 latest demo update: November 22, 2008